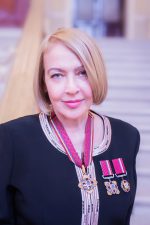 WELCOME MESSAGE
Dear Colleagues, Partners and Friends!
We invite you to take part in Filatov Memorial Lectures – 2019, a scientific conference with international participation, which will be held on May 23-24, 2019 in Odessa!
Filatov Memorial Lectures, which is  traditionally held in spring, is a great opportunity for communication among colleagues and like-minded people.
Ophthalmologists and doctors of allied specialties will take part in professional meetings, exclusive and interesting discussions, specialized medical exhibition during 2 informative days. The best leading Ukrainian and foreign speakers will introduce new approaches to diagnosis and treatment of ocular pathology. Specialized seminars, professional schools and roundtable discussions within the conference will focus on the most urgent and topical issues of modern ophthalmology. All this will provide specialists with information and help you find answers to professional questions.
I am sure that the conference will inspire the participants to further self-improvement and will give a boost to domestic ophthalmology to develop.
With deep respect,
Pasyechnikova Nataliya
Corresponding Member of the National Academy of Medical Sciences of Ukraine
Chairperson of the Organizing Committee
President of the Ukrainian Society of Ophthalmologists
Head of «The Filatov Institute of Eye Diseases and
Tissue Therapy of the National Academy of Medical Sciences of Ukraine»